Towel Hire Services in Melbourne, Victoria
Towel Service has pre-qualified towel service partners throughout the Melbourne, Victoria Greater Area. We offer a free and easy to use online search tool to help you get competitive quotes on towel service for your restaurant, salon, gym, hotel, spa, medical facility, or any other business that requires towels.
Call us at 1800.886.173 to find a towel service near you!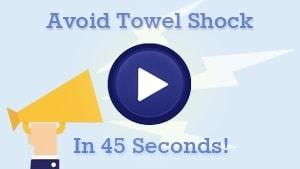 Watch Our 45 Second Video
Melbourne Towel Service
Melbourne, the capital city of Victoria, is the most populated city in Australia. Several businesses such as boutiques, cafés, bars, galleries, fashion houses, and theaters are booming in the city. Any small business owner should know the importance of maintaining a positive business image. One of the reliable ways of maintaining a positive business image is by partnering with a qualified linen rental service provider to take care of your laundry. If you own a restaurant or a gym, you will require clean towels on a daily basis. Having your laundry done professionally will save you time and also help in improving your business image.

Melbourne Towel Service is offering small business owners an easier way to get in touch with qualified laundry service providers. They have a referral program where they refer businesses to dependable linen service providers. If you are in the Melbourne area, you can use this amazing online search tool to get the best quotes from different laundry service providers.
Our Professional Services
Our laundry service providers can provide you with a number of services including:
We Insist on Quality
At Melbourne Towel Service, we believe in quality. All the laundry service providers that we refer you to have been screened to ensure that the services they offer clients are of high quality. We are aware that you are paying to get quality. This is why we have certain criteria that laundry service providers must meet to join our referral program.
Business is at least three years old
Outstanding judgments and lien
Business permits and certificates
Better Business Bureau (BBB) lookup
No history of bankruptcy
Referrals from selected former clients
Business state filings
Call us through 1800 886 173 to get quotes from our trusted laundry service providers.